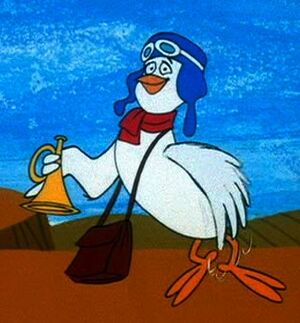 Yankee Doodle Pigeon is a character in Dastardly & Muttley in Their Flying Machines.
About the Pigeon
He is the messenger bird pursued by Dick Dastardly and his Vulture Squadron. He does not speak, but announces his presence by blowing a bugle.
Trivia
Yankee Doodle Pigeon makes a cameo appearance in the 2020 film Scoob! where his taxidermied body is next to Muttley's memoriam that Velma, Fred, and Daphne stumble across.
He also makes a cameo appearance in Jellystone!
Gallery