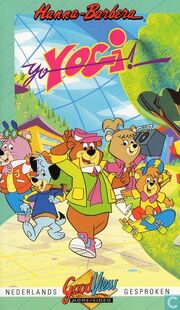 Yo Yogi! is an animated series that first aired on NBC on Saturday mornings during the 1991/92 season. Yo Yogi! was the last television series to feature (or star) Yogi Bear for three decades, until Jellystone! which was released on July 29, 2021. It is also the last Hanna-Barbera show to premiere on NBC to this date. Shortly thereafter, TeenNBC premiered in 1992.
Premise
Yo Yogi! featured episodes (or parts of episodes) in 3D video, as Kellogg's Rice Krispies offered 3D glasses. Generally, the 3D scenes were chase scenes of the variety made famous by Hanna-Barbera in the Scooby-Doo series. At the beginning of these 3D sequences, Yogi would spin his hat atop his head, as a cue to viewers to don their 3D glasses. The show didn't do well in the ratings, and was cancelled in the summer of 1992 (July 25th, to be exact) in order for NBC to reformat its Saturday morning schedule to live action for teenage audiences.
It last aired in syndication as part of The Funtastic World of Hanna-Barbera; modern voice actors played the voices of certain characters not only because some of them are teenagers, but also due to the deaths of Daws Butler, Mel Blanc and Paul Frees before this series began.
Plot
Taking place in Jellystone Town, it featured a teenage version of Yogi Bear and the other popular Hanna-Barbera characters of his era, including Huckleberry Hound, Snagglepuss, Yogi's own sidekick, Boo Boo, and Yogi's girlfriend, Cindy Bear. The characters hung out at Jellystone Mall owned by "Diamond" Doggie Daddy, with Augie Doggie as his heir to the mall business. Yogi and the gang work at an agency called L.A.F. (short for Lost and Found) where they act as detectives solving mysteries under supervision of the mall's security guard Officer Smith. Dickie Dastardly and his sidekick, Muttley, would cause trouble for Yogi and his gang. Along with Dick Dastardly causing trouble was a new character named Roxie Bear, who was Cindy's rival and Yogi's competitor; the characters were never seen at home or school.
Other fellow H-B toon stars, Peter Potamus and So-So, Top Cat, Secret Squirrel and Morocco Mole, Hardy Har Har, Squiddly Diddly and Wally Gator were also featured as teenagers. Hokey Wolf is the mayor of Jellystone Town and Ding-a-Ling briefly appeared as his photographer, Loopy De Loop works at the Jellystone Mall's Picnic Basket Food Court, Atom Ant served as the town superhero, Quick Draw McGraw and Baba Looey were wild west-themed entertainers, Pixie and Dixie lived in the cheese cottage owned by Mr. Jinks, Peter Potamus and So-So ran a plant shop called "Peter Potamus' Plant Palace", Snooper was a crime-solving celebrity while Blabber ran the "Crooks 'n' Books" store, Magilla Gorilla appeared in "Jellystone Jam" as Magilla Ice (a takeoff of Vanilla Ice). Also, Granny Sweet made an appearance in the episode "Super Duper Snag".
Points of Interest
There are various locations in Jellystone Town:
Jellystone Mall - The main setting of the series run by "Diamond" Doggie Daddy.

Lost and Found Detective Agency - Yogi and his friends work here, under supervision of Officer Smith.
Picnic Basket Food Court - a food court run by Loopy De Loop (Yogi's personal hangout).
Peter Potamus' Plant Palace - a plant store run by Peter Potamus and So So.
Crooks 'N' Books - a book store run by Blabber Mouse.
Mops 'N' Tops - a wig and hat store; it's owners, Moe and Joe Wendell, became the Clipper to steal people's hair to improve their business.
The Invention Dimension - a computer store run by Uncle Undercover (Secret Squirrel's uncle).
Aunt Annie's Antique Antiquarium - an antique store.
Boot Borough - a shoe store.
Imovieplex - the in-mall movie theater.

First Jellystone Bank
Jellystone Prison
Jellystone Clock Tower - built by the town's founder, Thaddeus P. Jellystone.
Episodes
No.
Title
Airdate
1
Hats Off to Yogi (Debut episode)
September 14, 1991
Workers and patrons to Jellystone Mall are ending up having their hair shaved off by a mysterious Clipper at the same time Yogi loses his hat. Even without his hat, Yogi and Boo Boo end up finding the identity of the Clipper in Moe and Joe Wendell in the Mops 'N' Tops wig store.
2
Mellow Fellow
September 21, 1991
While the others are at the Picnic Basket, Huckleberry Hound helps the parents of Wee Willie Gorilla find their son in exchange for a reward. Dick Dastardly and Muttley also get involved in finding Wee Willy.
3
The Big Snoop
September 28, 1991
Super Snooper (alongside his press agent P.R. Flack) is in town for a book signing at the Crooks 'n' Books store when a mystery contest is held. When the L.A.F. Squad are following the clues, Dick Dastardly and Muttley try to ruin their hopes. But when Super Snooper ends up kidnapped, Yogi and his friends try to locate him and find out that his kidnapper is his own press agent.
4a
Huck's Doggone Day
October 5, 1991
Two criminals named Lou and Murray have escaped from Jellystone Prison and discovered that the area that they buried their in loot 50 years ago is where Jellystone Mall stands today. When they get to the elm tree there, Huckleberry Hound is under it unwinding causing Lou and Murray to try various ways to get rid of him with disastrous results.
4b
Grindhog Day
October 5, 1991
Two Grindhogs have infiltrated Jellystone Mall and are eating the mall's profits and Cindy Bear won't let anyone exterminate them since they're on the Endangered Species list. When they get to their Pickleyberry Patch habitat in Jellystone Park, Yogi, Cindy, and Snagglepuss stumble upon an abandoned underground mineshaft and discover that a criminal called Max the Mole is going to break into the First Jellystone Bank.
5a
Fashion Smashin!
October 12, 1991
Calvin Clunk is in town to reveal his latest fashion designs. His rival Talula LeTrend plots to steal a dress that is the centerpiece of his fashion show at the same time Roxie helps Cindy with her fashion. When Talula does steal it, she ends up mixing it with a copy of Roxie's outfit style.
5b
To Tell the Truth for Sooth
October 12, 1991
Snagglepuss is sent on a mission to return the bust of William Shakesbear to Aunt Annie's Antique Antiquarium. When he ends up losing it at the Imovieplex movie theatre, he fakes that he's been knocked out and robbed of the statue with the evidence being that Dick Dastardly stole the bust.
6
Of Meeces and Men
October 19, 1991
Mr. Jinks, who runs the local cheese store, has had enough of Pixie and Dixie stealing his cheese. Dick Dastardly tells Mr. Jinks that he can teach him to be a bully to "muscle out" Pixie and Dixie. Yogi helps the two and shows Mr. Jinks that being a bully is not the way to do business.
7
Yippee Yo-Yogo
October 26, 1991
Quick Draw McGraw and Baba Louie are doing a show at Jellystone Mall, when Dick Dastardly releases an angry bull in the mall. It's up to the L.A.F. Squad to find him and calm down the bull for the Wild West Show.
8
Barely Working
November 2, 1991
Yogi tries on a variety of second job to supplement his income.
9
It's All Relative
November 9, 1991
Yogi's uncle Bruno visits just as villain Mad Painter begins a rampage in the mall.
10
Yo, Yogi!
November 16, 1991
In this origin story, the Jellystone Mall has been opened and Yogi and his friends go there at the time when an invisible bandit strikes Jellystone Town. When Dickie Dastardly and Muttley get their hands on a clue, they end up flying off with Yogi in hot pursuit leading them to Bombastic Bobby's Bargain Barn as part of his plan to run Jellystone Mall out of business. With the help of his friends, Yogi manages to stop Bombastic Bobby and gain jobs at the mall's Lost & Found Detective Agency.
11
Jellystone Jam
November 23, 1991
Magilla Ice is in town to give a performance at Jellystone Mall and Doggie Daddy is holding a contest where the winner will spend the day with Magilla Ice. Roxie rigs the name drawing so that she can win the day with Magilla Ice. When Cindy Bear's name is drawn, Roxie teams up with Dick Dastardly and Muttley to make sure that Magilla Ice spends the day with her.
13
Mall Alone
November 30, 1991
Snagglepuss ends up locked in the mall after closing time when watching a movie. Yogi, Boo Boo, Cindy, and Huckleberry end up breaking in to save him at the same time when two robbers attempt to steal the Rusty Diamond baseball card.
14
Tricky Dickie's Dirty Trickies
December 7, 1991
After the L.A.F. Squad recovers a man's toupee after it was accidentally blown off by Peter Potamus' goldenrod allergies, Dick Dastardly plots to become leader of the L.A.F. Squad by getting rid of Yogi. When he does succeed, Yogi ends up being removed from the L.A.F. Squad and ends up hanging out with Hardy Har Har. Meanwhile, Mr. Slump and his assistant Leroy plot to kidnap Augie Doggie and hold him for ransom.
15
Super Duper Snag
December 14, 1991
A giant cockroach called The Pest is at large in Jellystone Town with plans to rule the world. Atom Ant ends up losing his Atomic Helmet which Snagglepuss mistakes for a pinkie ring. With it, Snagglepuss becomes a superhero. Atom Ant ends up seeking help from the other L.A.F. Squad members to find his Atomic Helmet before the Pest conquers the world.
16
Polly Wants a Safe Cracker
December 21, 1991
An evil parrot called the Birdbrain is in Jellystone Town cracking every safe in town. It is up to Yogi, Boo Boo, and Secret Squirrel to stop him.
17
Mall or Nothing
December 28, 1991
Taking advantage while Doggie Daddy goes to a mall owner convention, a con man tricks Augie Doggie into signing Jellystone Mall to him. Now Augie seeks help from L.A.F.
18
There's No Business Like Snow Business (Final episode)
January 4, 1992
Cast
Lewis Arquette - Bombastic Bobby
Greg Berg - Huckleberry Hound, Moe Wendell, Joe Wendell
Greg Burson - Yogi Bear, Quick Draw McGraw, Snagglepuss, Officer Smith, Wally Gator, Uncle Undercover
Bernard Erhard - The Pest
Pat Harrington, Jr.
Arte Johnson - Lou
Danny Mann
Gail Matthius - Roxie Bear
Mitzi McCall - Talula LaTrane
Howard Morris - Murray
Roger Nolan
Rob Paulsen - Chuck Toupée, Dickie Dastardly, Hardy Har Har, Super Snooper, Wee Willie Gorilla
Henry Polic II - Baba Looey
Neilson Ross - Morocco Mole
Ronnie Schell - Calvin Klunk
Hal Smith - Blabber Mouse
Lennie Weinrib - Max the Mole
Patric Zimmerman - Augie Doggie, Dixie
Home Media Releases
Yo Yogi! was released on VHS and came with 3D glasses in the early 1990's.
There are no current plans for a complete series DVD release of Yo Yogi! from Warner Home Video.
The show is available on iTunes.
Reputation
In recent years Yo Yogi! has been the subject of parody and memes across YouTube and other websites.