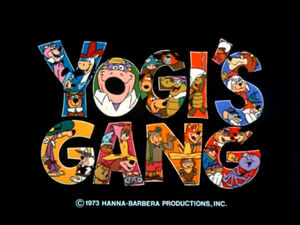 Yogi's Gang, which ran on ABC in 1973, was the first of several Saturday morning cartoon series headlined by Yogi Bear. Yogi, Boo Boo, Huckleberry Hound and their friends traveled in a flying ark on a mission to combat the evils of society, such as bigotry, dishonesty and disrespect for the environment. The series was expanded from a pilot, Yogi's Ark Lark, an entry in The ABC Saturday Superstar Movie series.
Voice cast
Episodes
Mr. Bigot
The Greedy Genie
Mr. Prankster
Mr. Fibber
The Gossipy Witch
Mr. Sloppy
Mr. Cheater
Mr. Waste
Mr. Vandal
The Sheik of Selfishness
Mr Smog
Lotta Litter
The Envy Brothers
Captain Swipe
Mr. Hothead
Yogi's Ark Lark, Part 1
Yogi's Ark Lark, Part 2
Notes
With the exception of Yogi Bear's crossover TV series, which was used mainly for parody, this is the only time for Yogi Bear TV series to use a laugh track, particularly Hanna-Barbera's custom track that was used for most of its 1970s input.
DVD release
Warner Archive released a DVD set of Yogi's Gang: The Complete Series on February 19, 2013.
Community content is available under
CC-BY-SA
unless otherwise noted.