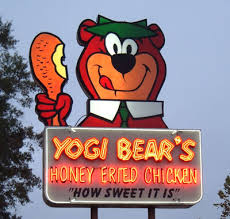 Yogi Bear's Honey-Fried Chicken was a chain of fast-food fried-chicken restaurants licensed by Hanna-Barbera Productions starting in the early 1960s to cash in on Yogi Bear's popularity. Located primarily in the Southern states, the chain's locations featured fiberglass statues of Yogi, Boo Boo, Cindy Bear and Ranger Smith prominently situated at the front, as well as decently-priced fried chicken meals in a family-friendly setting.
A particular selling point of the chain was that its honey-based fried-chicken recipe was not so greasy as other national takeout fried-chicken brands like Kentucky Fried Chicken and, hence, easier to digest.
Only one location currently exists, in Hartsville, South Carolina.
External Links