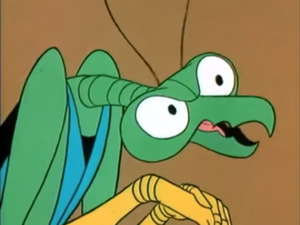 Zorak is a character in Space Ghost and Dino Boy, Space Ghost Coast to Coast, and The Brak Show. He was voiced by Don Messick in Space Ghost and Dino Boy and C. Martin Croker in Space Ghost Coast to Coast and The Brak Show.
About Zorak
He is one of Space Ghost's archenemies. He's also a band leader. He appeared in two episodes of his own, "Zorak" and "The Challenge", as well as all six episodes of the "Council of Doom" story arc.
Zorak is a green mantis with a beak. He is hunched over. Zorak usually wears a blue or red vest with a speedo. His wings are either black or blue. He wears yellow or blue gloves and and toe socks. Zorak sometimes wears blue gloves and socks.
Zorak allegedly spent many of his teenage years on Brak's planet, where he attended Learnmore High School with his friend Brak. Zorak was a bad influence on Brak, leading him to mischief. One of the first such times was when he convinced Brak to kidnap Mr. Bawk Ba Gawk, the school's mascot. Zorak also tended to disrespect Thundercleese's property, despite Thundercleese's protectiveness of it. (The Brak Show: "Mr. Bawk Ba Gawk"). Also during this time, he appeared on Gilligan's Island. (Space Ghost Coast to Coast: "Gilligan").
It was later revealed in the 2003 New Year's Eve shorts that the Zorak in The Brak Show is a separate character from the one in Space Ghost Coast to Coast. When the Zorak from SGC2C was killed, this Zorak took his place.
Zorak escaped from prison with the help of some other Zorathians in order to get revenge on Space Ghost. He captured Jan and Jace, forcing Space Ghost to come and rescue them whilst performing dangerous tasks. Space Ghost successfully did so, recapturing Zorak in the process. (Space Ghost: "Zorak").
Zorak had his scientist create a robot called Titanor. (Space Ghost: "The Challenge").
He joined the Council of Doom.
Space Ghost arrested Zorak and forced him to form The Original Way-Outs. He started annoying Space Ghost while doing some interviews.
As of 2014, Zorak and Brak are roommates in their own apartment, where they hosted the revival of Cartoon Planet. Though he mainly served as a foil to Brak and his bizarre behavior, he occasionally hosted reviews for the video games he played.
Additionally, Zorak appeared alongside Space Ghost in Coast to Coast's old studio, seemingly accepting his irrelevance in contrast to Space Ghost lamenting Adult Swim's disinterest in continued partnership (Perfect Hair Forever: Muscular Distraction - A and Muscular Distraction - B).
He appeared in Jellystone!
Gallery